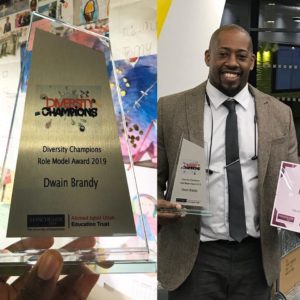 This week I was Honoured to receive the Diversity Champions Role Model award. Both trips to Poland, Auschwitz were humbling, reflective, and emotional. It also made me reflect on the current climate within the UK.  This trip has reinforced the importance of integrity and the pursuit of social justice within education.
Since the announcement of the Brexit referendum results, police recorded over 900 hate crimes in or around school and colleges, 71% of which were racially motivated hate crimes With the term 'Community Cohesion' a term that was developed during the disturbances in the North West in the early 2000s. This has been removed in the latest Ofsted school inspection handbook, although practitioners still have the duty to promote community cohesion within their schools. Wider community. This has raised increasing concerns regarding the state of community cohesion within the UK.
Opportunity
Schools now have the opportunity to modernise the curriculum to reflect the global population of the school. This will eventually develop an inclusive ethos that will increase positive relations and community cohesion within the school. With a range of different cultural backgrounds and nationalities in England, it is essential for the curriculum to reflect global society and to relate to the increasing global audience.
As a teacher, researcher and parent, I believe that a cultural approach will lead educational change within society and foster a mindset of integration and respect, creating a generation of global citizens. that is detrimental towards fostering inclusive environments and constructive community cohesion. I believe that diversity champions have the opportunity to lead educational change.
Thanks for all of your support, look out for new posts at the start of next year.
Dwain