'Break the Cycle' – the under-representation of BAME leaders in education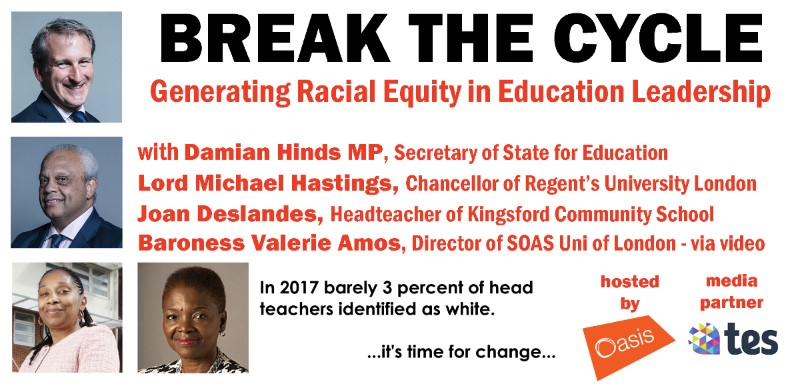 There is an urgent need to address the diversity of teachers in leadership positions within schools to highlight the changing demographics of the student population. A diverse leadership team represents the expectation of equality for learners and creates positive stereotypes as opposed to the subordinate roles that are often associated to staff from BAME origin
The statistics present a major concern; the ratio of BAME leaders to BAME students is disproportionate compared to that of their White counterparts. Steve Chalke the founder of the multi-academy trust, Oasis Community Learning, reports that as of 2017, the department of education statistics show that just 3.2 percent of state-funded secondary school head teachers identified as non-white, while for primary school head teachers the figure was 2.4 percent.  In January 2016, according to official figures, just 39 secondary headteachers in England identified as black.
This has led to the following concerns;
With no BAME leaders how can we best tackle racism in our schools?
With no BAME leaders how do we encourage BAME students to aspire to be leaders themselves?
With no BAME leaders how do we address the unconscious bias that we are instilling in all our students, of any ethnicity: that leaders are white, and for that matter, most often male and middle-class?
The event 'Breaking the cycle' explores how we change the culture and promote BAME leadership in education. This event is hosted by Oasis Community Learning and TES in central London on March 9, 2019.
Break the Cycle – generating equity in education leadership takes place.  For more information, click here.
Find Steve Chalke's full interview on the TES website: https://www.tes.com/news/where-are-our-bme-leaders-education